The City and County of Denver is exploring an expansion to residential waste services that would provide weekly recycling and composting for all customers. To cover the costs of these services, including labor and regular equipment replacement, Denver is proposing a fee based on the trash cart size that residents would select. Currently, trash pick-up in Denver is paid for by sales and property taxes. And there is a $9.75 a month charge for compost pick-up.
The new proposal that will be voted on by City Council is a volume-based service fee. The smaller the trash cart you need, the less you pay. The smallest trash cart would cost only $9 a month. The services included in the new proposal are: weekly recycling, weekly composting, weekly trash pick-up, extra trash days/large item pick-up, Cherry Creek drop-off Center, Leaf Drop, Treecycle and more. And there is financial assistance available for those who need it.
74% of Denver's residential waste goes to the landfill; this means Denver is only diverting 26% of waste. Other communities in Colorado do a better job. Boulder diverts 53%, Loveland 58% and Longmont 41%. By expanding recycle pick up to every week and making composting free, Denver can decrease the amount of trash we are sending to the landfill. Less trash in landfill, means less methane that goes into our air.
Denver's Recycling & Composting Rate Compared to Other Cities With Trash Fees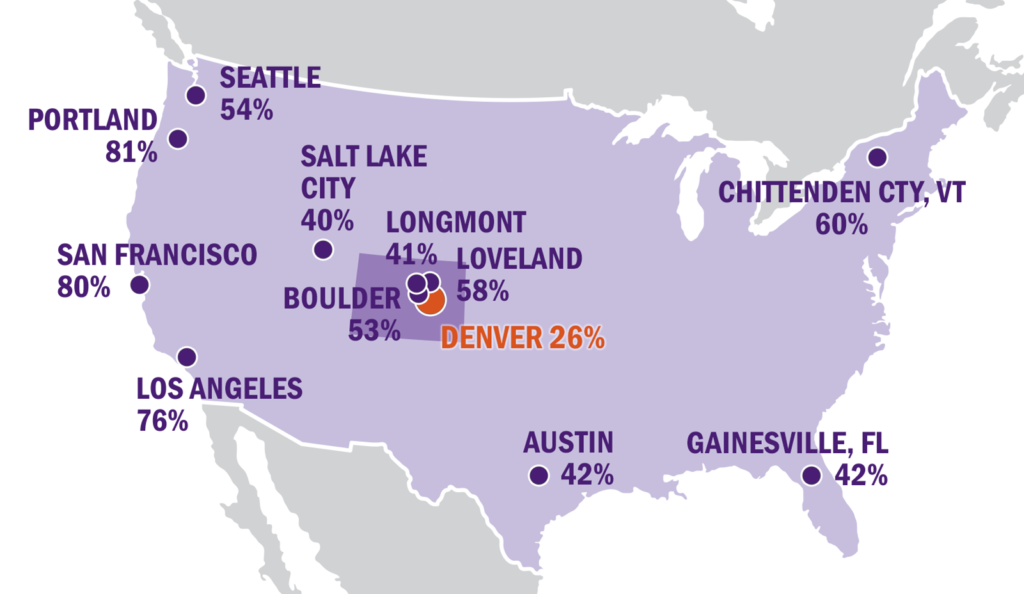 The folks at Solid Waste have spent a lot of time and effort on this project. You can also view their entire presentation here or you can learn more at their website.
Initial survey results showed that Denver residents are overwhelmingly ready to "make the switch" to free composting and recycling, but that the much more education is needed to better inform community members about the specifics of the program.
Over 70% of respondents indicated that they would be willing to pay for trash services if it would help Denver meet its climate change emissions goals. A similar number of recipients also stated they would be willing to pay up to $10 per month for trash services if free composting and recycling were included.
Let Councilwoman Sawyer know how you feel on this important issue!