The new Lowry Community Calendar is color-coded to make it easier to find events and activities. Royal blue is the color for all Lowry Foundation events, rust is the color for Denver Police Department, District 3. If you are looking for an LCMA event, look for brown. City & County of Denver, including our Councilwoman, Amanda Sawyer, is purple. John Hand Theater is burgundy. Boulevard One Community Association (BOCA) is green. Volunteer activities are silver.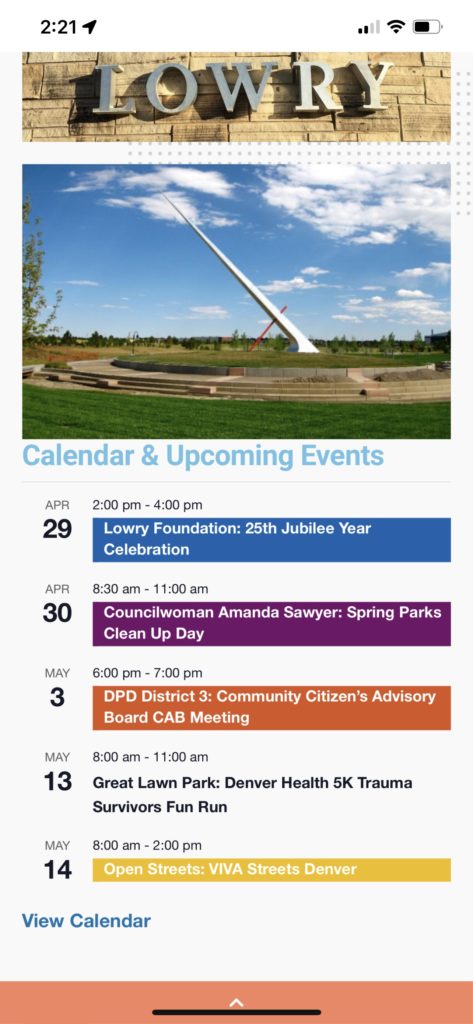 You will be able to find information for all the One Lowry organizations: Lowry United Neighborhoods, Lowry Foundation, LCMA, BOCA, and the Lowry Business Alliance. Additionally, you can find events and activities going on at the Schlessman Family Library, Wings Over the Rockies, the John Hand Theater and many other entities within Lowry.
At the top of our home page; you will see the five most current events. You can also click on View Calendar to see the entire calendar by list, month or day. And you can search for events.
The LUN Community Calendar is your go-to source for everything going on in Lowry.
If there is an appropriate event you would like to submit to the calendar just email us at connect@lowryunitedneighborhoods.org.