Laura Dailey and Lynn Schaffer have been busy gathering and organizing holiday toys and gifts for residents and families at Mercy Housing. The gifts will be distributed to all children and teens at three properties starting with Mercy Housing Grace Apartments. Mercy Housing is a nonprofit that operates various housing projects throughout the metro area. Some are transitional, some dedicated to low-income seniors, and finally some for refugees and their families. Mercy Grace is in the last category with a majority of residents being refugees. It is one of the smaller properties and usually is at the end of the line for any donations to Mercy as a whole.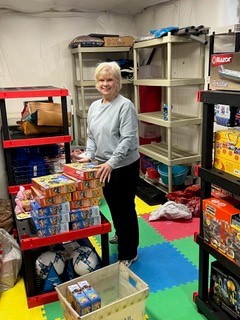 Laura, along with Lowry resident Lynn Schaffer, have been working over the years with Mercy Housing which has multiple low-income apartment buildings around the city.  She has provided them with toiletries and various products that she collects with her couponing project.
Last year Laura was able to provide a limited number of toys and she said the reaction of the kids to getting a new toy was extremely rewarding. Although most immigrant families do not celebrate Christmas the moms say that the kids do recognize that the holiday is when other kids get toys and although their families cannot afford new toys the kids would like to get toys too.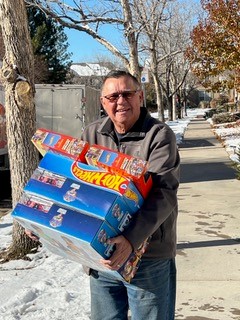 Laura reached out to the Silver Ropes volunteer group to see if they could help move the toys. Denny Head contacted his Romeo Coffee group, many of whom are Silver Ropes Volunteers – John McCarty, Jim Grillio, Chuck Woodward, Rich Heinemeyer and Denny Head. After coffee, the group moved toys. Joining the gentlemen was Kathy Head, Chairperson of LUN.
With vans, SUVs and even a rental truck, the volunteers got all the toys moved. Part of the collection of new toys was over 100  large dolls that are culturally appropriate enabling families to give their daughters dolls that look more like them. It's going to be a bunch of very happy kids this holidays thanks to Laura, Lynn and the Romeo coffee elves.