"Our beloved neighborhood, Lowry, is a microcosm of the United States. Here you will find people from the different corners of the world, from the different walks of life who made this part of Americana their own." This is Michael Merson speaking – a happy American and Lowry resident. Meet Michael and Irina Merson. Coming to America from the former Soviet Union in 1980, at the height of the Cold War, they have worked, struggled, lost and achieved. In a sense, they have lived normal lives even though they are not quite the typical Americans.
Irina was born in Ukraine under the shadow of the major power plant, where her parents, two young engineers, worked. She is very sad to see this land being destroyed during the current war. Michael was born in Minsk, Belarus. They met in high school. Their lives were full of struggle, good and bad times, but they made it together. Irina's parents had attended the Belarussian Polytechnic Institute in Minsk so she went there, too, while Michael became a senior editor with a large local newspaper.
When Irina graduated, she went directly into the engineering arm of the Belarussian energy structure. They married in 1972. "Our lives had a lot of promise but, of course, we were hampered by the totalitarian nature of the Soviet Union and by being Jewish. We decided to get out of the Soviet Union, but it wasn't easy."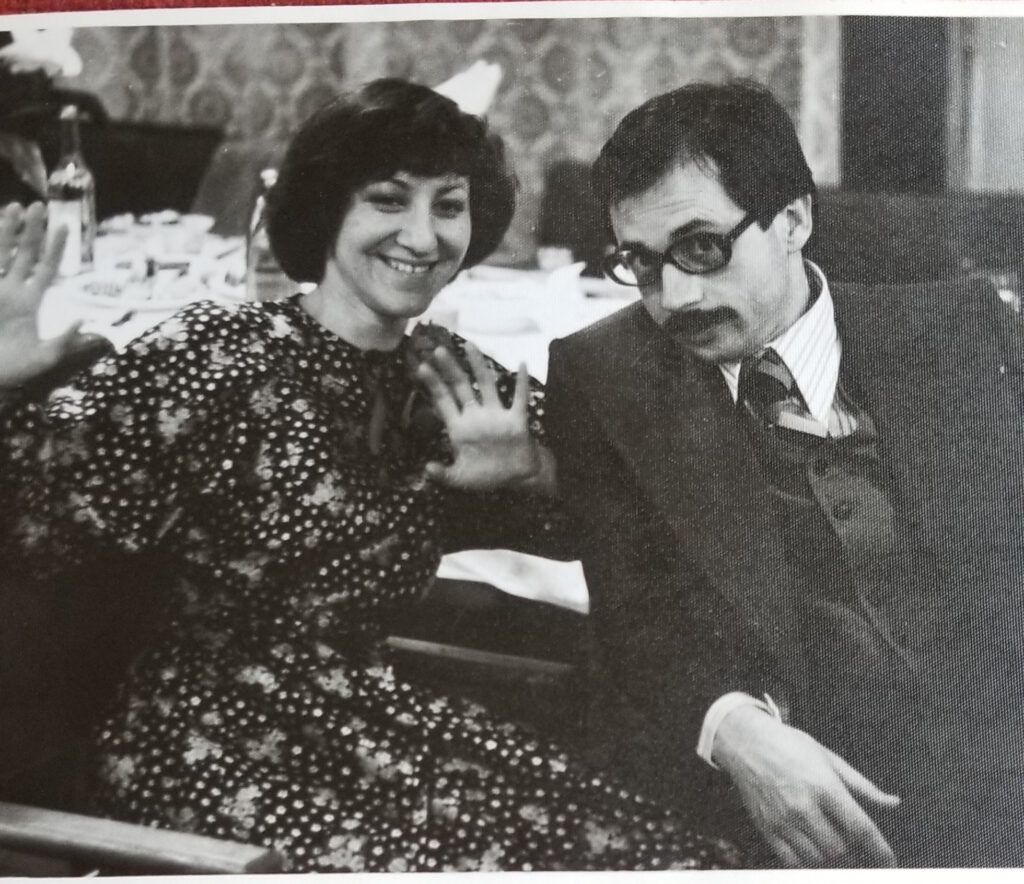 Michael was not allowed to leave. "As a journalist, it was thought I would endanger the country by what I knew. I ended up losing my job. Irina's father, accused of not raising his daughter as a good patriotic Soviet citizen, also lost his job. Irina's mom was forced into early retirement. Irina and I became refuseniks, the name of the people who tried to leave the Soviet Union, but were refused the exit visas." That was their punishment. They were in a sense a property of the state. After years of struggle to get out, in 1980 they were allowed to leave; however, they lost their citizenship and became stateless refugees. To start a new life, they were allowed to take two bags and $104 each. "But it was an adventure," Irina says. Perhaps an adventure not all of us could survive.
They began in Austria and ended up in Italy where Irina worked as a kitchen help and dishwasher while waiting to get any country – U.S., Canada, Australia, New Zealand – that would take in Russian refugees. "We were nobodies, ready to go anywhere." They arrived in the U.S. in September of 1980 at JFK and ended up sitting on the floor for hours and hours in a little room while the philanthropic agency that helped the refugees resettle decided where to send them. "We were finally sent to Los Angeles. What was most important, as refugees, we did get work permits right away." At last they were starting to have some bright moments and momentum.
Irina got lucky to be accepted into a short program of technical English. Michael picked up a book of short stories by Hemingway and the Khrushchev memoirs at the local library. Back in Minsk, they read Hemingway in excellent Russian translations, and, of course, the subject matter of Khrushchev's memoirs was well-known to Michael. "I began to read these two books without a dictionary. I could plot-wise figure out the words in English. And Hemingway wrote nice short sentences, that helped a lot," said Michael. Irina took classes in Tech English for 11 weeks, a class for a half a day and cleaning houses for another half. After finishing that, Irina finally got a job in the electric power industry. Michael worked in a warehouse, unloaded trucks, counted other people's money as a bank teller in Beverly Hills and attended computer school.
In the LA Times, Michael saw a job offering in Denver that looked good for Irina. Without telling her, he sent her resume to the company management. A VP flew out for an interview, Irina got the job. She stayed with that company for ten years, eventually becoming a program manager. In LA, he quit all his jobs, and the couple moved to Denver in 1983. Michael adds, "We came to Denver at the same time John Elway did, and I could not understand why the whole city was so excited about the new quarterback. The beauty of the American football was yet to be understood." They learned a lot about football and Denver.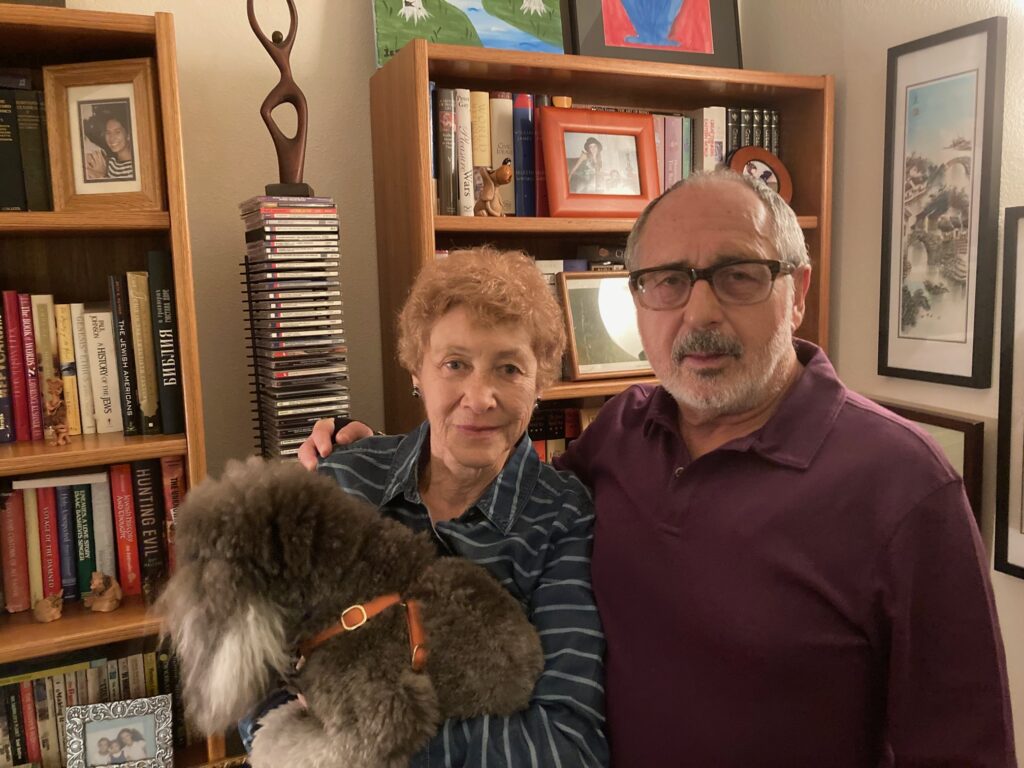 After working as a computer programmer for a few years, Michael started looking for a new chapter in his life. He decided on law school. He finished law school and passed both state and multistate Bar Exams. The Merson's proved to be hard working, smart and independent people who became American citizens and were not looking back. Irina worked as an engineering and project management consultant for electric power infrastructure. After 15 years of working for other consulting businesses, she started her own company, High Energy Inc., eventually employing 28 people. "I started with $1,000 and one computer and grew the company, the 'best small business in electric power industry owned by a woman," she adds proudly. This was an honor well earned.
In 2012, the Merson's moved from Hilltop to Lowry's Luce Condominiums where they enjoy the company of other Lowryites. Their home is full of books, hundreds of cd's and art. "We both like music a lot, classical and jazz." They attend many of Denver and Colorado cultural endeavors.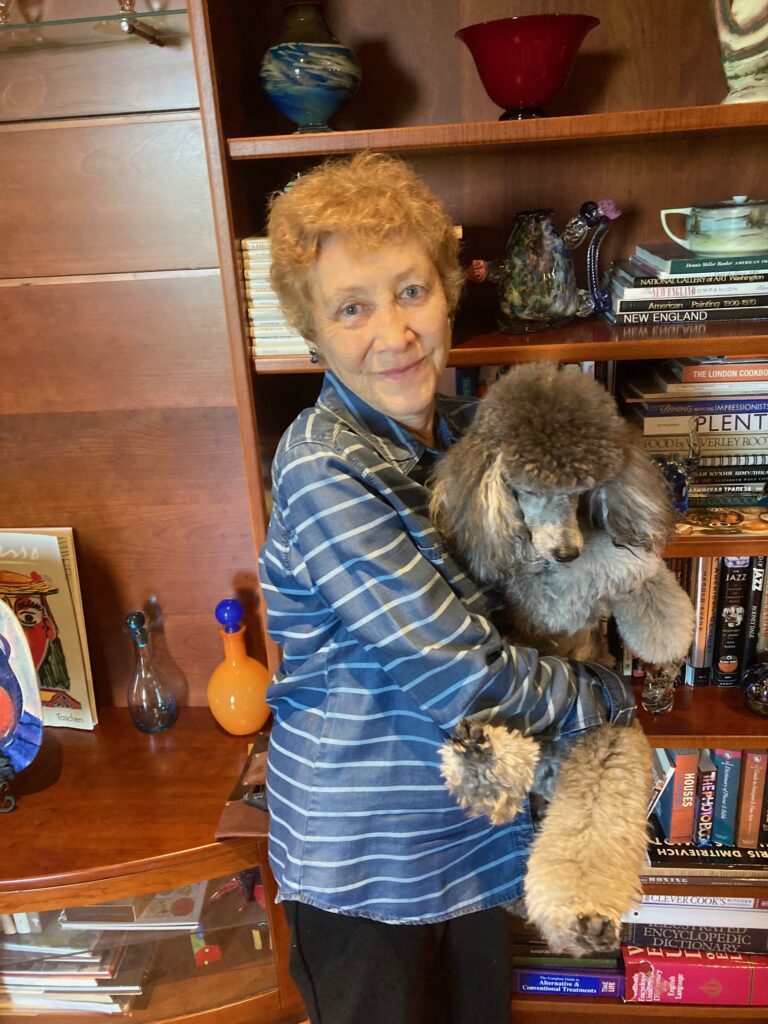 Looking back over their more than fifty years together, they realize, although life was often very difficult, it also had plenty of fun and adventures. Irina starts: "My husband has a big heart and is compassionate, but he doesn't wear his heart on his sleeve, as the saying goes – he doesn't want to stand out. He's an introvert." Michael says, "Our lives have not been boring, and we both worked hard. Irina is very much a people's person and that definitely helped her in business and generally in life."
Joining the family is an adorable miniature poodle Asher. Walking him, they get around Lowry and enjoy Café Mercato and North County. "People are kind," Michael says, "and we're enjoying the great art and musical events in town. Looking back, all our adventures have landed us in a great neighborhood."
Meet Your Lowry Neighbors is a monthly feature written by our intrepid reporter Sally Kurtzman, who knows everyone in our community. If you have a suggestion for a Meet Your Lowry Neighbor, please send us an email to connect@lowryunitedneighborhoods.org.