One of Lowry's "power couples" is Judy and John Rough, native New Jerseyians who met while both were working at Revlon Cosmetics. Judy was in marketing/forecasting, manufacturing planning and inventory control while John was in the operations and supply chain end of the business. They first connected based on their interests in business. Together they made a good team. Well, a great team.
I meet this power couple at lunch at their Lowry home, and we had a non-stop chatting and eating and learning session. Their energy levels are incredible as they outlined their early years, business and travel, children and grandchildren, and what it's like to be superb volunteers.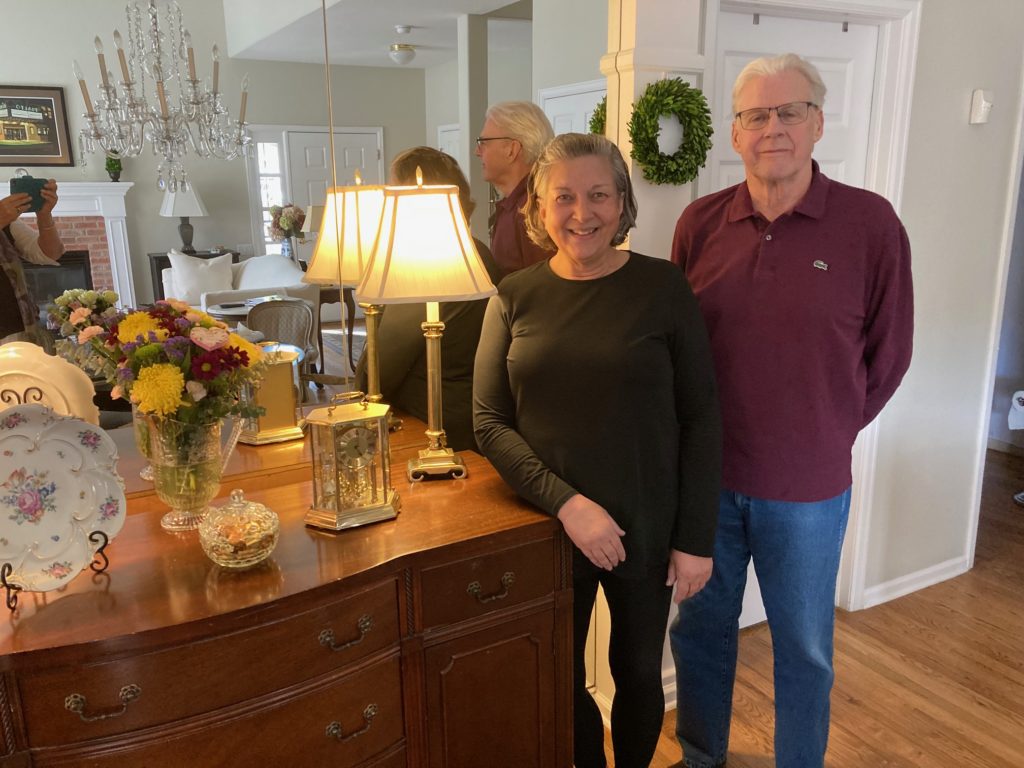 Parents of two, they traveled through work in many states before landing in Denver – and now Lowry. They are grandparents of five and in retirement (what's that?) have taken on many other adventures in the community while balancing a complicated family life.
Before the pandemic, Judy was the center manager of Senior Planet – getting it off the ground, ordering  furniture and setting up the delightful space in the north end of Hangar One. John was helping members with their technical difficulties using their pcs and cell phones. 
Sitting over lunch, I listened to the Roughs speak, finishing each other's sentences, adding a name here and a year there while talking about Lowry, our Lowry, and how and why this community works for them. Judy starts: "We had just launched Senior Planet here in Lowry and then COVID put the brakes on the in-person development. It is all about community and what we were trying to establish here in Lowry, a place where people could gather, a club house of sorts, take classes and network with the world."
John starts in here. "There were so many organizations out there both in Denver and Lowry that lost momentum during COVID, and meanwhile seniors were hungry for help and had the time to learn the technology. Zoom helped to put those pieces together and I was able to help people who needed extra help and direction." As consultants, both are used to Zoom, speaking to groups, finding the movers and shakers and getting projects off the ground. They are seriously organized, thoughtful and hardworking. They were almost giddy talking about what they do and did and what can be done.
Judy nods while John speaks and chimes in with the family motto: "With any problem or situation, 'we get it done.' We don't quit and just muddle through it. We get enough information and background to get all the ducks in a row and get a solution." Cliches aside, they both laugh at the message – that's how to get work done. They've had to solve a lot of problems and road blocks within their careers and then with Senior Planet.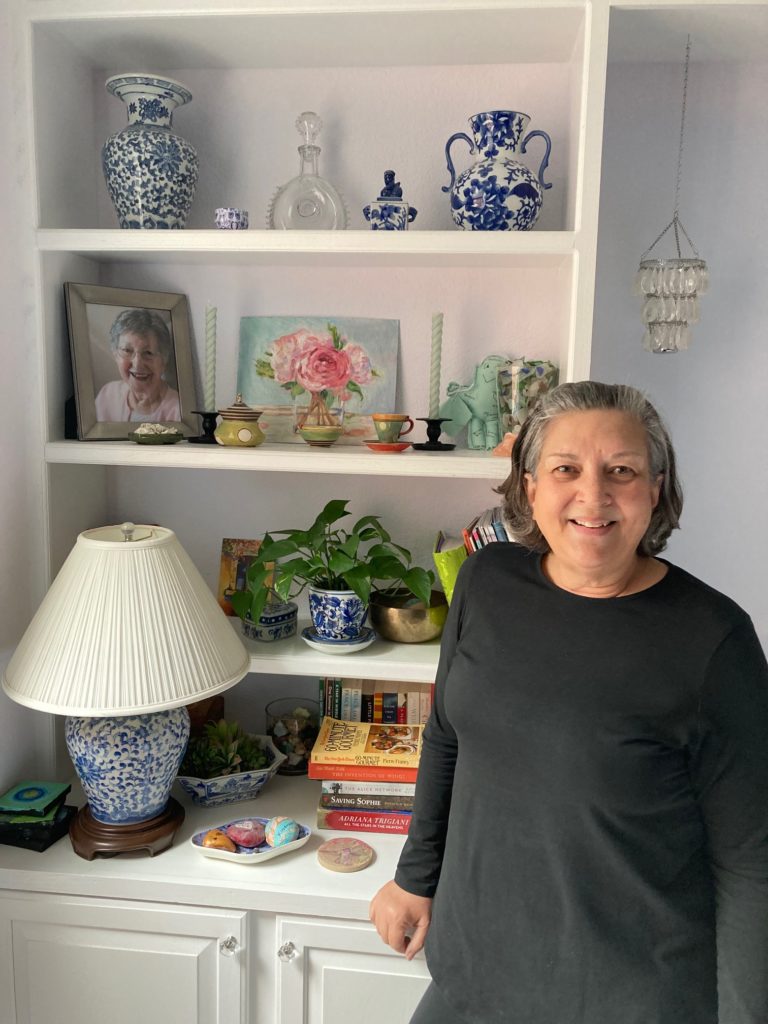 Judy, now retired, is working within Lowry to pull all the communities together, where all neighborhoods and HOAs would have a connection via the internet with all its members. Add them all up and we can connect all of Lowry. She's working on a 'front porch' concept where, for example, on a particular day, the neighbors would all meet outside with a drink or snack in hand and get to meet everyone. She's starting one block at a time. If anyone can organize this, it'll be Judy.
Meanwhile, she's been proactive about approaching the low-income part of Lowry through the Volunteers of America building, The Residences at Boulevard One, on the southwest side of Boulevard One. Once a week, she sits in the community center helping the tenants with life's problems like how to get a replacement birth certificate or where to apply for childcare, food or utility assistance. She organized four events in 2022: a Halloween gathering, along with a Friendsgiving Dinner, family photos and individual headshots day, and a Christmas Cookie Party where each child from seven months to 19 years old received a holiday gift from our compassionate Lowry residents. She's building trust one family and one meal at a time.
She cites the "poverty traps" that keep a lot of families stuck. Along with low-income families, those dealing with young children as well as seniors, often can't escape the cycle of poverty. "These people are living in anxiety, and trying to fill in a 23-page application for eligibility for one program is daunting and overwhelming. Any low income head of household, needs a fulltime administrative assistant to manage the maze of potential city, state or federal assistance. It is an injustice that we do not offer a clearing house or one-stop-shop to facilitate these complex programs."
John is busy teaching courses for OLLI@DU in history, current events and classic movies. Together they are keeping busy- too busy – but it's all focused. They believe in starting small, taking the problem and picking it apart. Who needs what and where is it. Can Lowry provide resources? But how do you reach all of Lowry's 8,000 residents in one fell swoop – not easy, but maybe it's one porch at a time.
Lunch is over and we've spent an hour talking about Lowry's great restaurants, parks and families. The Roughs are on a mission to keep Lowry going strong, one neighborhood at a time. They are truly a powerful couple, energetic, knowledgeable, and super friendly. They are sincere in their help for others, giving time in and out of Lowry to everyone and anyone on their radar. And their enthusiasm is contagious. Call them and catch it!
If you want to help the Roughs in any of their efforts, you can contact them: roughjm@gmail.com. They are eager to work with other Lowryites and guide you to good solutions – or use some of yours.
Meet Your Lowry Neighbors is a monthly feature written by our intrepid reporter Sally Kurtzman, who knows everyone in our community. If you have a suggestion for a Meet Your Lowry Neighbor, please send us an email to connect@lowryunitedneighborhoods.org.