One of Lowry's first residents is Pat Williams whose home faces Lowry Boulevard. And as soon as she got the postman to recognize the number, had cards and stationery printed, the city changed her address to Ellsworth. Easier for the postman for sure, but complicated for the early residents.
But Pat is used to changing numbers. After all, she's a CPA and can juggle and work the numbers into some understandable shape. Her new book, Money: Get it Save it, and Grow it Before Debt Steals it, is about the basics of money, what is, how to use it and how to keep it.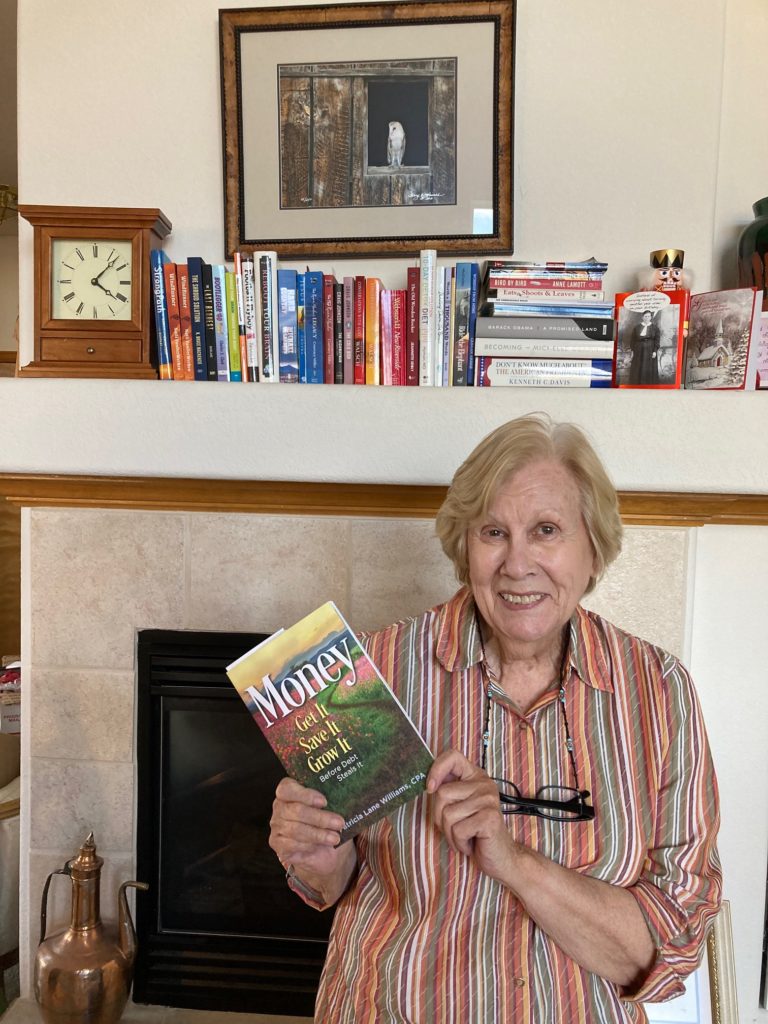 But she wasn't always a money master. She was born in Duncan, Oklahoma. The family moved to Mt. Carmel, Illinois, because there was an oil boom going on. Her father eventually bought some water trucks to haul water to the drilling rigs. Over the years her family lived in Oklahoma, Texas, and Colorado.
All the moving around made her and the family very willing to start over in a new place. They landed in Sterling, CO, where she finished high school. When her father learned she could type, she did his billing for him. One of the requirements for high school graduation was called "general business." Today we would call it "financial literacy." Her current book falls under that category.
After Pat graduated from Colorado State College (now University of Northern Colorado) in Greeley, she headed for California where she taught 7th grade and met her husband. Over the years, she got a Master of Science degree and Accounting, Certification in Special Education, Learning and Language Disabilities, and a degree in the English teaching field. She was well acquainted with anything that came her way with numbers.
The couple moved to Los Angles and then to Sterling. They eventually moved to Texas where Pat worked in the office of farm-related companies. "I really liked numbers and the work and realized I could move on and up with a master's in accounting."
"After getting my masters I worked for a small accounting firm and then decided to open my own firm. I did 'pretty well' at it and liked working with people who needed help. You don't know how many people don't understand the math behind the numbers." Oh yes, we do. Many of us fear numbers and need a Pat to straighten out our lives.
She sold her firm and moved to Phoenix where she taught principles of accounting in a couple of community colleges part time. Looking for a full-time job she saw an ad for positions at the American Institute of Certified Public Accountants (AICPA) in New York City. Her graduate advisor was now the Vice President of Auditing Standards. He recommended she get in touch with the Professional Development Division because he knew they were hiring. She did and spent eight years at the AICPA, the last six as Director, Professional Development.
"Of course, I loved New York," she says smiling. "It was a far cry from the oil field and I did well there." She left the AICPA to go to work for MicroMash, a company in Denver that was the first company to put CPA review on computers; Pat was the Vice President of Editorial.
When that company was sold, she began writing continuing professional education (CPE) programs for various clients and teaching accounting classes all over the country. To keep their licenses accountants, need a certain number of CPE credits. "I just about lived out of a suit case with all my traveling, but I loved getting through all the material in a given set of hours and was happy to send these accountants on their way with information on what was new in accounting and auditing standards. Standards seem to change annually, so that was a lot of teaching and traveling. I loved it." Over the years Pat has written more than 40 CPE programs and taught too many classes to count.
Pat continues to travel with her brother, sister-in-law, and sister, taking river cruises in Europe and getting away from work. "Our family is used to traveling so we do this quite nicely and all get along so well."
And the latest book? "I worked on it off and on for years and it finally came together last year. Money to me is a form of exchange. In and of itself it is nothing. It's what you do with it. People have to realize it is a commodity!" She teaches classes at Colorado Free University (CFU) in Lowry so if you need to brush up on your own money skills, check CFU's catalog.
This latest book has been a labor of love, and she's here to help us. "Beware of credit cards," she says. "Always ask for a receipt. And always justify that account." Checks? "Yes, but again check this daily or monthly. Pay cash for smaller items." Remember "Cash is King and Credit Cards are the Jokers."
When you spend money ask yourself, "Is this a need, a want, or a desire?" Beware of fraudsters and scammers. There is no Nigeria prince seeking your help to get money out of his country. A relative you never heard of has not made you their heir. Your grandson hasn't been kidnapped. And the latest scam is an FBI agent stationed in foreign countries whose job is to see you get your money."
Pat looks out her front window remembering the growth of Lowry from the early days. "I like watching the bikers zip by, moms with baby carts, and cars streaming now into Boulevard One. Lowry has sure grown, nicely so." She enjoys Einstein's, Walter's (try the lasagna), the best burgers are at the Chop Shop and for eggs, go to the Delectable Egg.
Her last tip to help you is: remember that money is just a tool, but use it wisely. It can only dig you out of your financial problems if you understand how money works and how you can work your money."
Meet Your Lowry Neighbors is a monthly feature written by our intrepid reporter Sally Kurtzman, who knows everyone in our community. If you have a suggestion for a Meet Your Lowry Neighbor, please send us an email to connect@lowryunitedneighborhoods.org.