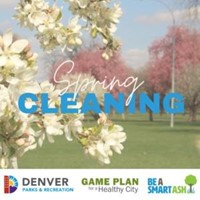 Spring cleaning. Some of us look forward to this annual ritual. Others, not so much. However you choose to look at it, this annual tidying up – and wiping down – of our homes is not only good for our physical health, it's also a good way to take care of our mental health. Plus, a good cleaning makes a space ready for whatever comes its way.
As we begin to open those windows (finally!), clean out those closets, dust the crevices and donate unwanted things we've accumulated over the winter months, don't forget – your yard needs love too.
A checklist for spring cleaning the inside of our homes can be as easy as a Pinterest search. It's not as easy, however, to find a simple list of ways to tidy up the outside spaces this time of year.
But good news! The outside is actually much simpler – and comes with a much shorter checklist. All you really need to do is follow a few key steps below to get your garden ready to welcome you in the seasons ahead.
The six steps to preparing your yard for spring include:
Aerate
Turn on the irrigation system (calling in the pros, if needed)
Compost/top dress
Wake and rake, baby!
Fertilizing (if needed) and pruning
Add water!
For more information on these six steps, click here.