Lowry Foundation Silver Ropes September Project at the Food Bank of the Rockies
Please join us on Friday, October 27 from 1-4 p.m.
To register please go to the link below by Oct 13 to be part of the Lowry Silver Ropes team. http://lowryfoundationsilverropes.foodbankrockies.volunteerhub
Click on the date (10/27 1-4 pm Warehouse) and the green "Sign up" button next to the event on the page.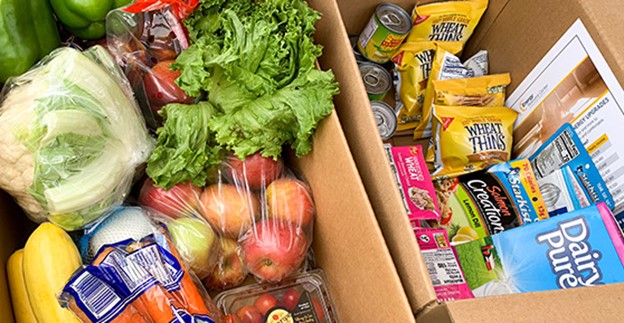 Why volunteer four hours in October?
Need isn't always conveniently located, which is why Food Bank of the Rockies deploys 70+ Mobile Pantries monthly throughout Colorado and Wyoming to meet the needs of everyone and anybody that facing food insecurity
Each year, our mobile pantries provide millions of pounds of food to under-supported regions. With your volunteer help you can help ensure that every member of our community has access to the nutritious food they deserve and need. People like Mara in Lakewood, Colorado.
"To make ends meet I use resources like Food Bank of the Rockies just so that | can provide for my family,' said Mara. "We need gas for the car, we need to pay rent, insurance: all of that adds up and where's the food? All those bills, where's food for me, my husband, and our kids? And so we struggle, but thank goodness for resources like this."
The Benefits of Volunteering
VOLUNTEERING IS GOOD FOR YOUR MENTAL HEALTH
Performing acts of kindness causes your brain to release mood-enhancing chemicals like: dopamine and endorphins. Other benefits include stress relief and improved self-esteem.
2. VOLUNTEERING IS GOOD FOR YOUR PHYSICAL HEALTH
In a 2017 study, 75% of participants said volunteering made them feel physically healthier. Another study found that adults who volunteered at least 200 hours a year were significantly less likely. to develop heart disease and stroke.
3.VOLUNTEERING IS GOOD FOR YOUR CAREER
Corporate volunteerism can be a great way to bond as a team. Volunteerism also looks good on a resume: One study found that 76% of executives felt volunteering made a candidate more desirable.
4. VOLUNTEERING IS GOOD FOR YOUR COMMUNITY
The final benefit of volunteering is also the simplest: It helps people in need.
Regardless of which cause you devote your time to, your work will have a positive impact on your community.